ELECTRONIC MUSIC COVID-19 INITIAL RESPONSE
GUIDING PRINCIPLES FOR THE LIVE SECTOR
INTERCONNECTEDNESS & INTERDEPENDENCE

IMPLEMENTATION / BEST PRACTICES SUGGESTIONS

ADDITIONAL BEST PRACTICE IDEAS FOR LONGER TERM FOCUS

CONCLUSION: COLLABORATION THROUGH UNDERSTANDING
This research report was undertaken in April/May 2020 and completed prior to the death of George Floyd. It aims to respond only to the COVID-19 crisis, and does not address issues of systemic racism in electronic music. AFEM* and IEF* commit to taking action to combat racial inequality within the electronic music industry, and are currently exploring how best to use their resources towards this goal. Both organizations felt that it was still relevant for this report to be disseminated to the community in its pre-existing form as COVID-19 continues to affect us all, while acknowledging its shortcomings in relation to the Black Lives Matter movement.
The COVID-19 crisis immediately presented us all with a brand new set of challenges, which were so extreme that no one could have prepared for them. It launched our world into chaos and uncertainty, while shining a light on the fragility of our ecosystem and the structural problems that contributed to its unravelling. How can we survive this crisis? How could we work through this together and build the future electronic music industry we want and need? How do we channel the collective passion, dedication and innovation found in electronic music, in order for us to move towards a more resilient and robust ecosystem?
The findings of this community-sourced, values-driven report aim to stimulate thinking. We hope to support the conversations, actions and decision-making of all parties who are dealing with the impact of the COVID-19 crisis in the live sector. Bringing together the perspectives of over 100 people from across the industry, and reflecting the diverse circumstances of stakeholders, resulted in this set of guiding principles and best-practice suggestions, which have been shaped by cross-community consensus.
Guiding Principles to help navigate this crisis and create a healthier and more sustainable post-crisis industry:
Communicate transparently and seek understanding
Collaborate with flexibility
Prioritise long term sustainability for everyone
Honour work done
Extend support to those who need it
Be fair
Best Practice areas for dealing with some of the major initial challenges of this crisis:
Ticket Refund Handling
Pragmatic Show Rescheduling
Fee Deposit Handling
Radius and Exclusivity Clauses
In response to COVID-19, IEF* and AFEM* held live sector-focused COVID-19 emergency calls to bring together voices from all corners of the community. The goal was to help understand one another's perspective, discuss ideas and find solutions to help the industry work more effectively together. Through those calls it became clear that aligning to create a set of guiding principles and best-practice suggestions could help encourage awareness and solidarity at this critical moment.
This report is the collaborative result of over 100 global participants' thoughts, experiences and ideas gathered strategically across continents, sectors and size of venture, with the aim of achieving a meaningful snapshot. Thank you to the people who responded for contributing their time and energy during this difficult time.
The respondents were:
Geographically: From each continent with an over indexing on Europe and the USA. Whilst we are confident about the relevance and importance of our findings, we acknowledge that these do not fully represent the global situation or the ever-changing nature of the crisis as it spreads.
Cross sector: Agent 10%, Artist 16%, Club Promoter 20%, Festival Promoter 17%, Management 13%, Press + Marketing 3%, Production Services 3%, Record Label 5%, Venue Owner 13%. A significant number of participants are involved with more than one sector, showing the fluidity of roles and responsibilities across the industry.
INTERCONNECTEDNESS & INTERDEPENDENCE
The idea of interconnectedness is at the very core of electronic music.
Electronic music's ecosystem is unique and wide ranging, built from a deeply interdependent network of organisations, large and mid-sized companies and thousands of micro-companies, freelancers, contract workers and the self-employed. At the center of this environment are live events.
Every live electronic music event relies on a complex web of decisions, relationships and external factors. From macro factors such as insurance, law and government, to cash flow, contracting and payment terms (micro factors), each of these elements are part of the larger picture of what happens behind the scenes at any given event that you've been involved with.
Many vital small and independent operators are particularly vulnerable to the crisis and its total shut down effect; without their regular events, which oftentimes have extremely tight break-even points, they have been left with no cash flow and, in many cases, unable to receive government support. Each business and individual operating within the electronic music live sector now faces their own set of challenges in responding to this situation -- supporting that communication and awareness feel deeply urgent at this time.
At the time of writing, it is likely our industry will be one of the last to return to normality. Public health responsibility is of paramount importance and electronic music events often happen in intimate club spaces where restrictive measures will be difficult to enforce. As we discuss sizes of gatherings, reduced venue capacities, seated events and ticket prices - the list goes on - it becomes apparent that the production of live events is more difficult and uncertain than ever.
Across all sectors, geographies and communities, the survey found a number of shared short- and long-term concerns and challenges:
Immediate loss of income/money/revenue leading to bankruptcy/insolvency
Uncertainty about the future, the lack of security it holds and a potential second wave of COVID-19 infections
Operational, financial, social impact of the health & safety requirements placed on event organisers to re-open venues and events legally and responsibly
Long term disruption to our infrastructure and resources, including venue closures and job losses throughout the industry
Impact of travel restrictions and freedom of movement of artists and audience
Concern over personal health and mental well being of our community
Loss of time already invested on events and work already completed
Potential for big business to monopolise a decimated industry
How to remain connected, relevant and creative during this crisis.
Lack of recognition of electronic music as a cultural sector that needs/deserves recognition and funding
That we won't work collaboratively to develop a more resilient and sustainable model
In order to respond to these shared challenges, we all must consider the implications of our actions on each other. Demonstrating positive values in everything we do will play a critical role in shaping our future. The survey presented a set of suggested values in the form of guiding principles for interaction, which were reaffirmed and reflected with 93% positive agreement:
Communicate transparently and seek understanding - e.g. prepare to explain your situation with honesty and clarity while extending the same understanding to others.
Collaborate with flexibility - e.g. take your original contractual obligations as a starting point for discussion, be willing to adjust the terms to be realistic for all parties involved given the current climate.
Prioritise long term sustainability for everyone- e.g. consider how your actions impact the full chain of businesses in the sector, and the jobs which depend on a sustainable ecosystem.
Honour work done - e.g. even if an event is cancelled, work carried out in advance should be compensated in some way. Work collaboratively to establish fair solutions.
Extend support to those who need it - e.g. be flexible financially if you are in a position to help those who are struggling. Consider extending payment terms, hold off invoices until closer to the date of event/s.
Be fair - e.g. do not change the terms of how you do business specifically to take advantage of other businesses or individuals who now find themselves in weaker or desperate positions.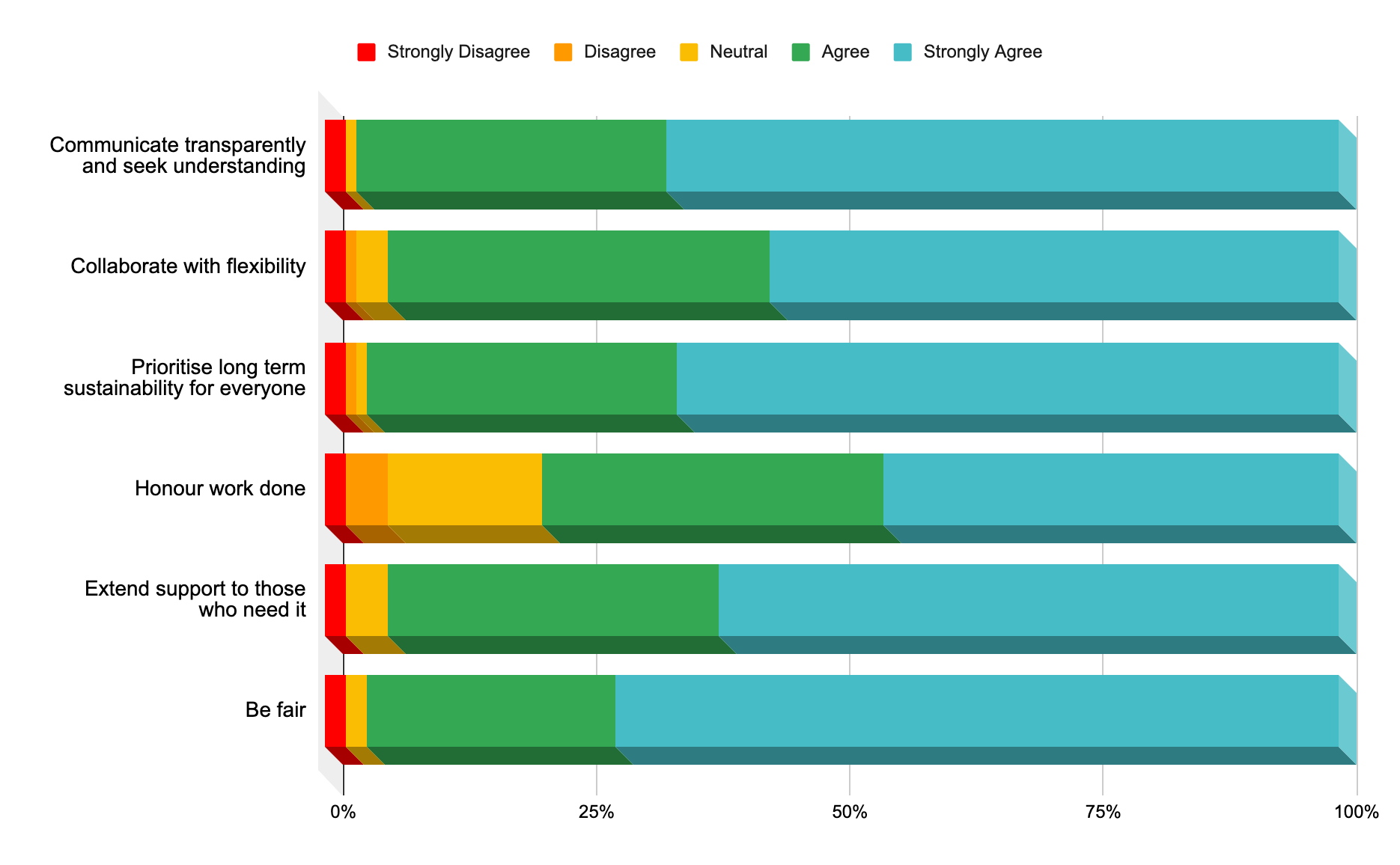 Further to this, in response to the question "What other values - the things that you believe are important in the way we work together - do you think we should all be practicing during this crisis and beyond?", respondents provided additional insight and considerations that are critical to working together effectively:
Have patience, compassion and empathy when communicating transparently, and encourage open dialogue and sharing of information to help seek understanding of each other's perspectives and challenges.
When collaborating flexibly, be willing to compromise and provide solutions that are realistic in the current climate and ensure accountability in the adjusted terms of agreement.
A recurring theme in the responses called for the industry to consider the environmental impact of our actions now and in the future. Alongside prioritising sustainability for everyone to protect employment in the industry, environmental sustainability must also be a priority.
Extending support to those who need it must be anchored in a deeper sense of solidarity and community and lead to fairer distribution of wealth.
The most widely cited additional theme from responses was the wish for the industry to refocus on its own creativity and innovative power to affect meaningful social impact.
IMPLEMENTATION / BEST PRACTICES SUGGESTIONS
The survey also asked participants to share their ideas on how to approach COVID-19 related scenarios specifically oriented to the live event workflow:
Ticket Refund Handling

Promoters should explain and be transparent about their situation to encourage ticket holders to donate their tickets or transfer to a future event, if their personal situations allow them to. At the same time, with regards to ticket refund handling, the respondents were in favour of offering all ticket holders the option of full refunds.

Pragmatic Show Rescheduling

Asked about their views on handling show rescheduling, the majority want to reschedule rather than cancel where possible. A patient and considered approach with guidance based on the countries' lockdown timeline was preferred to avoid further rescheduling and to also avoid local clashes as events come bunched together. Many felt that moving shows to match cancelled dates into the same ones in 2021 was the best way to do this. Flexibility and good communication was emphasized between all parties - sharing as much information as possible about their circumstances on a case by case basis. Flexible deals based upon performance with more friendly payment terms were also suggested.

Fee Deposit Handling

Relative to the above answers, respondents' opinions on handling artist and booking fee deposits diverged more widely. The common denominator here was that each situation should be handled flexibly, paying heed to unique circumstances. In case of cancellation, there was agreement that artist fees should be returned. If shows are rescheduled, flexible arrangements should be made; ranging from keeping deposits in full (escrow) to finding new promoter-friendly deposit solutions.

Radius and Exclusivity Clauses

Exclusivities are still relevant, but must be adjusted to fit the new situation. Most people thought that exclusivity and radius clauses are still needed but with more flexibility. Some suggested a time out for 2020 and 2021. as restrictions will force capacity for everyone, anyway making exclusivity deals unreasonable. Also, a number of respondents suggested that improved communication around this subject needs to happen to avoid unethical behaviour by stronger promoters or agents in the future.
ADDITIONAL BEST PRACTICE IDEAS FOR LONGER TERM FOCUS
We are being called to invest our energy, attention and resources in generating alternative and sustainable methods of supporting our work and ecosystem. As a response, a number of additional key themes emerged from potential other areas of best practice:
Develop Live Streaming and Online Music Usage Revenue Opportunities

Responses pointed to the need to focus online performances (live sets / mixes / podcasts) on revenue generation for the artists involved and the creators of the music being played. Artists and teams should seek a deeper understanding of how different live stream platforms operate to understand how music rights are managed and the revenue opportunities on each. Choose to support the platforms that support the artists and creators via fair payment distribution mechanics. Proactively seek to influence the big tech / streaming platforms to improve monetization and revenue for artists, labels and rights holders. And there was consistency in the need to move audience expectations away from free content and towards platforms that financially support artists.

Rethink Artist and Agency Fee Structures

Responses highlighted the need to reconsider and adjust the artist and agency fees structure in line with new events capacities and ticket prices to create a sustainable scene. Ideas included the need to work together on financially sustainable models, so there is greater sharing of risk between promoters, artists and agents. And sensible 'headliner' pricing, with more parity in fees to encourage events to support emerging and legendary talent fairly.

Support Local and Grassroots Communities

Responses advocated for a focus on supporting and stimulating local and grassroots business and talent. And the need to identify areas of operations that are environmentally or socially damaging and aim to restructure them urgently. There was a cross community consensus that grassroots support is needed to create a stronger scene.
CONCLUSION: COLLABORATION THROUGH UNDERSTANDING
As we look towards collaboration as a means for survival, it becomes increasingly clear that we need to cultivate a coordinated response to shape the change required; to do that we will need to start by asking more questions and seek more information than we already have.
It's important to acknowledge that we don't always know the details of someone else's situation, and that we are all in a state of flux. Informed by the results presented here, we encourage you to ask yourself: how could I adopt the principles suggested in order to create a more harmonious ecosystem? A simple and effective approach to sharing information by creating a clear and concise statement outlining your situation and highlighting the challenges and concerns you are facing can be a first step to building trust and understanding amongst peers. This could help establish healthy communication where compromise and fairness are possible, which will aid the collective survival and future viability of our interdependent network.
This report arose from the urgent need people felt to consult with colleagues - we have never before seen communication on this scale across countries, sectors and platforms. By sharing these immediate concerns and proposing solutions, we hope to have meaningfully distilled the sentiment of these essential ongoing conversations, helping to navigate the months and years ahead.
We hope that this initial report will positively influence the actions and decision making processes of those within the electronic music live sector, ultimately inspiring solidarity in our dealings with each other.
If the principles outlined here resonate with you, please share and amplify the message.
This document represents an initial attempt and response - if you would like to present ideas for future consideration, we would love to hear from you via hello@i-e-f.com
*IEF - Independent Electronic Forum is a community-led network that exists to positively impact electronic music culture by facilitating a platform for discussion and collaborative action. IEF advocates for the long term sustainability of our ecosystem by bringing together voices with shared values and a common purpose: to help understand one another's perspective, discuss ideas and develop projects to help the industry work more effectively together. IEF participants are people involved with independently owned companies and self-employed workers from across the electronic music community.
*AFEM - Association For Electronic Music is the global trade association for the electronic music industry, representing community, culture and commerce. AFEM's membership spans industry sectors from Labels to Live, Managers to Media, Retail to Rightsholders, Technology to Talent Agencies. AFEM is made up of over 200-plus company members across 25 countries ranging from industry leaders such as Beatport, Boiler Room, Defected, CAA, FUGA, !K7,Mixcloud, Mixmag, Native Instruments, Pioneer DJ, Soundcloud, Traxsource, Toolroom, WME through to emerging start-ups, leading managers, promoters, publishers and many others. AFEM connects its worldwide membership to develop opportunities and enable change.